Last Alarm For Assistant Chief For Training Chris Kiskeravage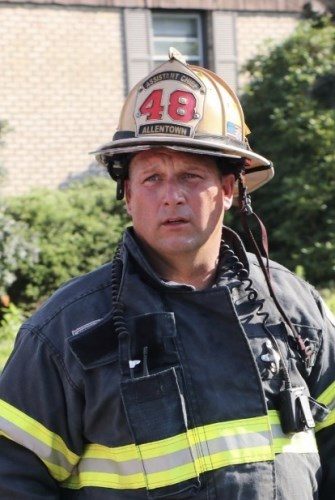 It is with deep regret that we announce the passing of retired Allentown Assistant Chief For Training Chris Kiskeravager.
Chris Kiskeravage, 56 of South Whitehall Twp. Formerly of Allentown and Shenandoah PA passed away Friday, June 9th, 2023. He was the husband of Andrea (Weber) Kiskeravage, celebrating 36 years of marriage on May 23rd. He was a 1985 graduate of Cardinal Brennan High School in Fountain Springs Pa.
Chris was a volunteer with Shenandoah Ambulance Corp as a teen and continued life as a career Firefighter and Paramedic. He worked at Cetronia Ambulance the former ALSS as a paramedic and a member of the I.A.F.F. for Easton Fire Department from 1989-1996, Allentown Fire Department from 1996-2019 retiring as Assistant Chief. He was a member of the Lehigh County Special Operations team, Pennsylvania Urban Search and Rescue Co. #3. Chris was also a Pennsylvania State Fire Academy Instructor. He was instrumental in the development of the Allentown Fire Department Technical Rescue team. After retiring from Allentown where he was in command of the fire academy, he was appointed as South Whitehall Townships' first Fire Commissioner.
He trained firefighters across the globe with Bucks County Community College's Fire and Public Safety. He had traveled to Korea, Japan, Italy, and Romania as well as across the United States teaching EMT, fire suppression, hazmat, and more. His passion for fire education and training was evident even in death as he chose to donate his body to science, in his words "to teach one more class." Hoping to find ways to make the job safer for all who follow.
In his off hours, he enjoyed being on his pontoon boat in the Rehoboth Bay crabbing as well as Scuba Diving in Belize, Bonaire, Bermuda, and locally with the Allentown Fire Department Dive team.
Chris loved his family and was blessed with 3 children Theodore (Brianna) and granddaughter Natalia, Alexander (Felicity) grandson Warren, and daughter Kathryn.
He is survived by his wife, children, grandchildren, mother Regina (Jean) Kiskeravage, Foster son Brandon Franklin (Ashley), and their children Liam, Noah, and Makenzie. Cousins Stefan Kowalonek, Stefanie Meskunas, and Stacie Green along with their families.
A Mass of Christian Burial will be at the Cathedral of St. Catharine of Sienna 1825 Turner St Allentown PA on Wednesday, July 12th at noon. Calling hours are 10 am-12 pm.
https://www.iafflocal302.org/wp-content/uploads/2022/09/IaffLocal302LastAlarm.png
400
400
william gauntner
https://www.iafflocal302.org/wp-content/uploads/2020/04/logo.jpg
william gauntner
2023-06-15 17:17:01
2023-06-15 17:17:01
Last Alarm For Assistant Chief For Training Chris Kiskeravage