https://www.iafflocal302.org/wp-content/uploads/2020/04/logo_trans.png
1130
1130
william gauntner
https://www.iafflocal302.org/wp-content/uploads/2020/04/logo.jpg
william gauntner
2022-04-21 17:32:03
2022-04-21 17:34:29
3rd Annual Welfare Fund Golf Tournament
Dear Friends,
I am proud to inform you that IAFF Local 302 Allentown Firefighters will be hosting its
2nd annual Welfare Fund/Community Project Golf Tournament. The tournament will
be held on Saturday, June 19, 2021, at the Allentown Municipal Golf Course with
food provided by Jack's Slice.
On behalf of Local 302, I am asking for any support you or your company could give as
a tournament sponsor. All monies raised will be split into two distinct funds. Half will be used
by Local 302 to assist with supplemental insurance for our oldest retirees. The second half will
be used in community projects throughout the year. These projects include initiatives such
as feeding children in a firehouse every Friday, back-to-school supplies, coat donations in
the winter, youth athletic association donations, cancer research, and many other
initiatives throughout the year.
As Allentown Firefighters, we provide Firefighting, Technical Rescues, and Emergency
Medical Services to the citizens of Allentown, as well as all of its visitors. But some of the
greatest impact we make is assisting the community through our outreach projects.
If you are unable to be a sponsor, we hope you, can find a few friends and play, or any type of
donation would be appreciated to use as a raffle item. It's sure to be a fun day! Hope to see you
there!
• Food Sponsor: $2,000.00 (includes 4-some)
• Beverage/Prize Sponsor: $1,500.00 (includes 4-some)
• Putting Contest Sponsor: $500.00
• Hole Sponsor: $200.00
• Tee sponsor: $100.00
o All checks can be made payable to: IAFF Local 302 by June 1, 2021
o Mail checks to: Jason Tatum
3956 Walbert Ave
Allentown, PA 18104
o All questions should be referred to
Jason Tatum or Mark Kresge Sr.
484.866.1606          610.737.4210
2nd Annual Local 302 Allentown Fire Fighters – Registration Form
https://www.iafflocal302.org/wp-content/uploads/2020/04/logo.jpg
1130
1130
william gauntner
https://www.iafflocal302.org/wp-content/uploads/2020/04/logo.jpg
william gauntner
2021-04-07 07:34:15
2021-04-07 12:01:01
2nd Annual Local 302 Allentown Fire Fighters Golf Tournament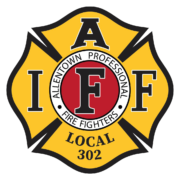 Local 302 Allentown Fire Fighters are proud to be partnering with the YMCA in re-starting the Firehouse Fridays program. Every Friday from 3-4 at Hibernia Fire Station located at Ridge and Tilghman we serve the children of Allentown under 18 bagged meals and meet the families of our community. Unfortunately, COVID has forced the program to make some changes to meet safety guidelines but we are working with them to continue serving the families of Allentown.
https://www.iafflocal302.org/wp-content/uploads/2020/04/logo_trans.png
1130
1130
william gauntner
https://www.iafflocal302.org/wp-content/uploads/2020/04/logo.jpg
william gauntner
2020-09-30 19:54:26
2020-09-30 19:54:26
Firehouse Fridays
I.A.F.F. Local 302